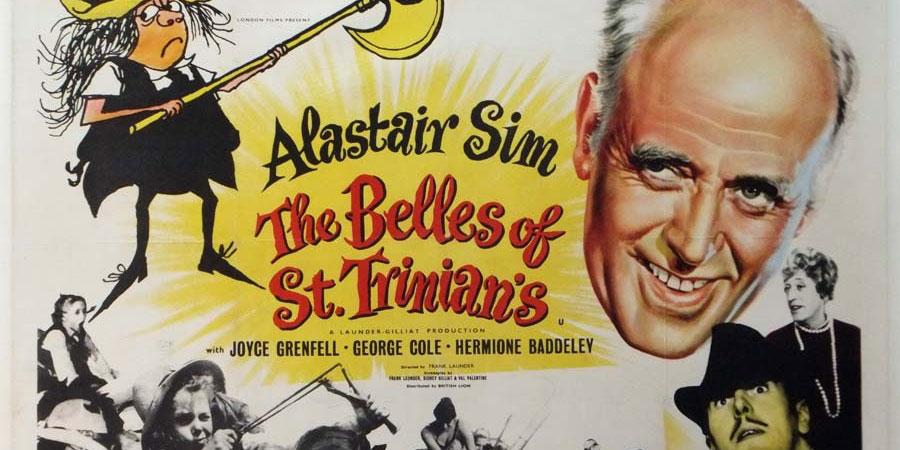 Watched the Belles of St. Trinians - Alistair Sim and George Cole save it, the former's scenes with himself in female drag brilliantly done, Sim convincing so much as Miss Fritton that one forgets it is Sim in drag. I find the titular overaged schoolgirls a load of insufferable bints, especially the actual child ones, awfully precocious child actresses. Even my dad's idol, George Cole can't seem to find his niche. He's good as always, but at times, you think he's just doing it as a nice little earner.
The other films I remember being pants, mainly an excuse for cheesecake with top British comic talent shoehorned in, basically a PG-rated precursor to the 70s sex comedy boom, though 1966's The Great St. Trinian's Train Robbery has some quirks, including the characters reading a "now a major film" tie-in copy of Harold Robbins' Carpetbaggers, Cole seems slightly more engaged, there seems to be an enthusiasm about the production and it has Frankie Howerd playing a dad who's a hairdresser, but still a working dad, which he almost manages to convince as. And it is, unlike the others in the proper canon in colour, which lends it a zip and a bright visual flourish not unlike the Carry Ons for the same period, and replacing Beryl Reid and Hermione Baddeley with Dora Bryan is a masterstroke, because Bryan is at times like a Fly-like teleportation accident melding of the former two.
The later films are muck. The 1980 film The Wildcats of St. Trinian's I have seen clips of, I couldn't stand it. Joe Melia replaces Cole, now in his "Minder" phase of his career, and Sheila Hancock's headmistress, even though it does have the likes of Maureen Lipman and Julia McKenzie as teachers plus Rodney Bewes in a turban and dear old Michael Hordern and future reality TV staple Lisa Vanderpump and Alex Kingston (before her presence turned "Doctor Who: the Welsh Series" from a US syndicated-style bit of sometimes pleasing, sometimes excruciating telepap to an even slushier romcommish mess) as some of the titular Wildcats. But it is one of those forgotten films of that overlooked period of shoddy British genre films, e.g. the era of Sir Henry at Rawlinson End, the Monster Club, Silver Dream Racer, The Boys in Blue, Who Dares Wins, Bullshot, Bloodbath at the House of Death, Don't Open Till Christmas, The Wild Geese II, Water, Morons From Outer Space, Jane And The Lost City, Whoops Apocalypse, all those Michael Caine Thatcherite thrillers, the load of bull that were the starring vehicles of Julie Walters, possibly Slayground...
And as for the NuTrinian's with Rupert Everett as Camilla Parker Bowles, time will tell. It will fit into that 2000s era of "shoddy British movies", you know, amidst the work of Edgar Wright, there was still this shite being produced - not just Richard Curtis' Guest House Paradiso, Kevin and Perry Go Large, The Martins (that one with Lee Evans and Kathy Burke in the Isle of Man, used to appear on Sky Movies Max a lot, remember Sky Movies Max?), Conspiracy of Silence*, The League of Gentlemen's Apocalypse, The Dark Is Rising, I Love Candy (another Nu-Ealing joint), Mitchell and Webb's Magicians, Lesbian Vampire Killers, Demons Never Die, all those post-Ritchie, post-Dyer gangster-themed Poundland filler e.g. the oeuvre of Jonathan Sothcott, Richard Driscoll's all-star vanity tax cheats, Simoncowellsploitation eg Pudsey the Dog's movie and that Paul Potts movie with James Corden, etc.
*Too much for a bracket, Conspiracy of Silence features an all-star Irish and British cast in a tale of suicidal AIDS-ridden priests and a war against celibacy, featuring Brenda Fricker as an Irish mammy, Harry Towb and Jimmy Ellis as Galwegian Belfastmen, Hugh Bonneville struggling with an Irish accent, Jim Norton reprising his role from Bishop Brennan from Father Ted, Gaybo as himself presenting the sort of Daily Politics-y hard-hitting current affairs-themed afternoon discussion program that RTE would never make and Cornwall playing Galway. And Chris O'Dowd, a Roscommon man doing an Oirish culchie accent as a Galway-based seminary student. Surely, his own accent would be suffice. A Roscommon priest studying in Galway is normal, the counties are beside each other, for christ's sake. It's basically a sort of Irish equivalent of a Larry Buchanan exposé movie or Larry Cohen's J. Edgar Hoover film. It's so gloriously awful that I do try to recommend it to people. It's a sort of Irish tabloid exposé with blood, sex, it's a proper Irish exploitation film.