This is about the British God of Exploitation. More daring than Hammer, more prolific than Tenser and Tigon (with whom he co-produced Black Beauty) and more exploitative and fun than Subotsky and Amicus. His name is Harry Alan Towers. A cinematic guru of what some would call trash, but what I would call treasure. He was the master of the cinematic co-production internationally. His empire spun from up my road (literally, Ardmore Studios in Bray, Ireland is literally a mile and a half away) to South Africa and Hong Kong.
He made over a hundred pictures from the early sixties to his death, aged 88 in 2009, he made films, some classics such as the Face of Fu Manchu, which my friend and site originator Matthew Coniam calls ' his best film,
The Face of

Fu

Manchu.
For Towers, this was high class indeed, virtually indistinguishable from a sixties Hammer film, and frequently mistaken for one, with Christopher Lee as
Fu
and
Tsai
Chin as his sadistic nymphomaniac daughter Lin Tang. Pitted against them is Scotland Yard's most experienced Sherlock Holmes rip-off
Nayland
Smith, played by Nigel Green in the first film,
Douglas Wilmer
in the second and third and Richard Greene in the fourth and fifth. (Wilmer's recent autobiography dismisses the films as "preposterous twaddle" and informs us that during production Lee carried his spare change around in a sock.)' The first and third of the series, Vengeance and Face were made in Ireland, at Ardmore, and apparently my grandfather worked on them, according to a friend of his, Cos Egan, while Brides, the second was a British film made at Hammer's home, ironically-named Bray studios, while the fourth and fifth, Blood and Castle of Fu Manchu were directed in Spain by Spanish trashmaster Jess Franco, and feature tinted stock footage of the Titanic sinking in A Night to Rememeber to convey a sinking ship, and spaghetti western-type Mexican bandits, but Vengeance and Blood do have an enforced asset, Maria Rohm, Towers' dolly-bird wife, 25 years his junior, on an exclusive contract and an regular in his early films, who'd stay with him till his death.
Of course, these are just a sample of a glittering film career yet one that could not be more filthier. In the mid-sixties, having made deals with Anglo-Amalgamated and a German company to make the Fu Manchus and a few Edgar Wallace films such as Circus of Fear, he went to AIP to make a spy spoof, Our Man in Marrakech (1966) and a bizarro Spanish white slave film with Vincent Price, House of 1000 Dolls (1967) (both in my opinion are not great, House being one of Price's worse films while with AIP, and apparently had its Spanish backing secured by having an Abe Lincoln on set, so the Spanish backers would think it was an Abraham Lincoln movie, not a white slave film) and then made a comedy film in Ireland, Rocket to the Moon (1967) which was fondly remembered by my grandad, who also worked on it, and helped launch a delibarately failed rocket launch. And then there's Shirley Eaton's Sumuru, directed by Lindsay Shonteff, a female Fu Manchu, but it is surprisingly boring.
In Ireland, he also made an adaptation of 10 Little Indians, one of many, the first (1965) has according to my friend Matthew Coniam, 'Shirley Eaton and Fabian (hilariously playing a rockstar called Mike Raven, not the Radio 1 DJ and failed horrorstar, I must note) in the cast, and switched the location to a Swiss mountain chateau; his second
(1975) took a sleepwalking Herbert
Lom
and Richard
Attenborough
to the Iranian desert; his third and final (1989)tried a jungle safari setting and starred
Lom
again and Sylvester Stallone's brother Frank. Those who have seen this version assure us it is the worst yet, though God knows the 1975 one takes some beating. The 1966 one, despite a
whodunnit
break towards the end and a ghastly score, is by far the most watchable, though it has nothing on Rene Clair's masterly 1945 version, from which it unofficially borrows a couple of original plot deviations and character names.' The 75 version is very strange. To call it a giallo would be true, as it is an Italian-West German-French-UK-Spanish-Iranian co-prod with an excellent Bruno Nicolai soundtrack like many contemporary gialli and Elke Sommer strutting about looking like she has just wandered off the set of Carry On Behind, Maria Rohm constantly screaming 'Martino, Martino' her character's surname, Robert Rietty dubbing Charles Aznavour, Alberto De Mendoza, Gert Frobe and Adolfo Celi, while Ollie Reed acts bullish with Elke looking at him doe-eyed, as he confronts the judge-garbed Attenborough, and an audiotape of Orson Welles. It is boring, but occassionally shines, especially the ending, and was passed off as a poor man's Murder on the Orient Express.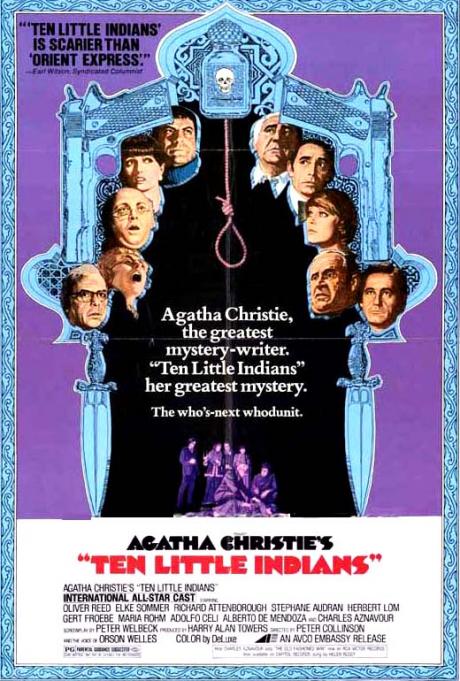 The 1989 one is co-produced by Cannon, and was filmed in South Africa, as a kind of chaser/cash-in/followup to Cannon's flop Ustinov Poirot revival Appointment with Death (1988) which has the feel of a Towers film, but isn't. It also has Lom, but with Donald Pleasence as Judge Wargrave, now portrayed as a kind of bloodied slasher monster with judge's wig and cloak, ironic, as this is the man who killed Michael Myers, a bunch of South Africans, Frank Stallone as the hero, paired with a fawning blonde in a pith helmet called Sarah Maur Thorp (a regular in SA-based Towers films) as Vera, rather than Eaton or Sommer, and is set in period, for the first time, on a train, so it clearly tries to ape Orient Express, but is directed by Alan Birkinshaw, who has gone down into British Horror Infamy for Killer's Moon (1978), but let's not talk about that, as it ain't Towers!
After the Fu Manchus, Towers became a well-known name to those in the industry. After becoming friends with Franco, he decided to chain him to the director's seat, later regretting this 'as he couldn't direct traffic', despite Christopher Lee's claims that Franco's an underrated and misued director. He made films such as the Rohm-starring Venus in Furs (1968) and 99 Women (1969), the Lee-headling Witchfinder General knockoff The Bloody Judge (1970), Eugenie (1970), where Maria Rohm teaches doll-faced cutie Marie Lljedahl with Lee narrating, thinking it is an artsy film about the Marquis De Sade, not knowing it is a softporn about De Sade with him as the guest star and Count Dracula (1970), putting Lee in his most famous role as Stoker not Hammer envisaged him, with Lom as Van Helsing, after Vincent Price could not escape his AIP contract and Rohm as Mina, with Klaus Kinski duped into playing Renfield, thinking it's not a Dracula film, as he refused to be in it initially, though he would later to be one of the few actors to play both Dracula and Renfield. It's a flawed masterpiece, let down by Franco's eccentricties of filming a British-set film in Spain, and other bad things, but there is a nice Nicolai soundtrack and it has Lee as Dracula, and it is better than Scars of Dracula, the Hammer Lee made that year, and feels more expensive than that, bizarrely, and hasn't got Dennis Waterman as the hero!
Harry then made a lacklustre Italian, London-filmed Dorian Grey with Herbert Lom, Richard Todd and Lom, and Rohm! By 1971, after a Mark Lester Black Beauty in Ireland, Towers made aa troubled Call of the Wild attacked by its star Charlton Heston, who thought Towers was mad, talked Paramount out of distributing the film, because he was still a major star but not as big as he still thought he was, and then Orson Welles' long gestating Treasure Island with half the cast of Horror Express, Rohm and Kim Burfield replacing Lester, who had jumped ship onto a rival production, Kirk Douglas' Scalawag. Welles was dubbed by Robert Rietty bizarrely, and had to be filmed waste up due to getting fatter between filming breaks (began in '64 by Franco, finished in 72 by Disney and Hammer vet John Hough, and filled in by Antonio Margheriti). Then, Towers dabbled in porn with films like Teenage Emanuelle (1976, the last acting role so far of Rohm, who retired) and then made King Solomon's Treasure with David McCallum and Pat Macnee, a Star Wars-chasing adap/sequel not based at all of Shape of Things to Come with cute robots and an evil Vader-like Jack Palance, similar to his role in Hawk the Slayer, but without a mask. After success with Klondike Fever, based on the life of Jack London, Harry paid his taxes to the US governments from the vice charges in 1961 and moved with Maria to Canada. Then, Harry would continue a string of producing porn movies such as Black Venus, as well as Fanny Hill (1983), one of the last British-made sex comedies with Oliver Reed, Shelley Winters and Wilfrid Hyde White having it on with a girl young enough to be his great-grandddaughter!
This after a slow period for Towers represented a new bloom in production. As he entered his sixth decade, Towers allied with Golan-Globus of Cannon to unleash more and more films. From family films like Lightning the White Stallion (1986) to Mandingo variants like Dragonard (1987, where Oliver Reed participates in an excuse to see women whipped by men in three-cornered hats), he seemed to make more movies. Reed became a fixture, appearing in everything from Skeleton Coast, a Wild Geese imitation with Ernest Borgnine, Herbie Lom (another fixture since the dawn of Towers) and Robert Vaughn to Poe adaptions and Captive Rage, another actioner. Towers also released comedies such as Oddball Hall, made in Africa with Burgess Meredith and Bill Maynard (yes,
that
Bill Maynard, British comedy acting legend) and DTV sequels like Howling IV, Delta Force 3, American Ninja 3 (with poor man's Chuck Norris, Michael Dudikoff, also star of Towers-produced Indiana Jones-aping Alistair McLean adap River of Death which has Vaughn and Pleasence as Nazis), the sword-and-sorcery Gor films and Warrior Queen, and Edgar Allen Poe's Buried Alive, which has seconds of John Carradine in his last role, Robert Vaughn and Pleasence ruling over a girl's orphanage in a bad wig and a couple of Robert Englund post-Freddy slashers including a rather good modern day adap of the Phantom of the Opera (1988), its semi-sequel Dance Macabre (1994) and the Stephen King adap the Mangler (1994) and Tobe Hooper's Night Terrors. Tony Curtis played a geriatric mummy in the Mummy Lives (1993), doing it seriously, but making it funnier, making me think it was a comedy. Anthony Perkins played Jekyll/Hyde/Jack the Ripper/Norman Bates in Edge of Sanity (1989), with Budapest as London, David Lodge, nylon underwear, Madonna-like Victorian prositutes and post-decimal currency. Chuck Norris appeared in the Hitman (1993). Two Lost World films were made in 1992, Michael Caine appeared in three Harry Palmer revivals that were not based on novels, so they did not need to pay Len Deighton, as Palmer was only the character's name in the films. Richard Harris made Cry, the Beloved Country (1995), and several DTV actioners and Tv movies were wheeled out including an octogenarian Jack Palance in an Isle of Man-shot Treasure Island (2000). Then, after years of still working, at his home in Canada, his wife by his side, in 2009, Harry Alan Towers died, aged 88. This was a sad day for exploitation fans. A true legend had gone, and no longer would movies have such a character among them, such a globe-trotting dealmaker. The world was a lesser place. There will be no one quite like him again, or even before.
RIP Harry!